At my mom's request, while she was in town recently, I made some
Char Siu/Xa Xiu (Chinese/Vietnamese Barbecued Pork)
for dinner and had about a quarter pound's worth of leftovers.
I had a good amount of sauce leftover too. I was debating whether to buy some more pork and bake it in the sauce, when I decided that it would make the perfect stir-fry sauce. Just add some fresh rice noodles and bok choy and it won't even look like you're trying to use up leftovers. Of course, you're welcome to make Chinese barbecued pork if you especially want to make this recipe. If you want to cheat and buy some pork from the Chinese barbecue shop, you can use oyster sauce in lieu of excess marinade as the stir-fry sauce. Caution: make sure you use the excess marinade that has already been cooked with the pork, don't use marinade from raw pork.
Since lil' sis loooves bok choy and rice noodles, this dish would have been right up her alley. Except she had a stomachache and wanted to just lay in bed. The lure of chow fun called to her though, so she crept out to the kitchen to pick at the wok for a bit. Then a little while later when her stomach had settled down some more, she came out to eat some more. And more. Now, I'm not saying this dish cures stomachaches, but I swear lil' sis felt much better after eating it! :)
Chinese Char Siu (Barbecued Pork) Bok Choy Chow Fun (Rice Noodle) Stir-Fry
For 2 to 4 servings, you'll need:
1 lb fresh wide rice noodles, loosely separated
1 lb baby bok choy, washed and separated
1 medium onion, thinly sliced
4 cloves garlic, finely minced
1/4 to 1/2 lb
Char Siu/Xa Xiu (Chinese/Vietnamese Barbecued Pork)
and any leftover marinade
Loosely separate rice noodles and set aside. If you're using dried noodles, boil and drain the noodles first and set aside.
Wash and separate baby bok choy and set aside in a colander to drain.
Slice one medium onion. Finely mince 4 cloves of garlic.
Now, you're ready to cook. In a wok or large pan on medium-high heat, drizzle about a tblsp of oil and add the onion and garlic.
When the onion starts to soften, add in the rice noodles. You may need to add more oil to the pan to keep the noodles from sticking.
When the noodles have softened and developed a slight char, add in the Chinese barbecued pork and all of the excess marinade. Stir to mix.
Add in the baby bok choy and mix again.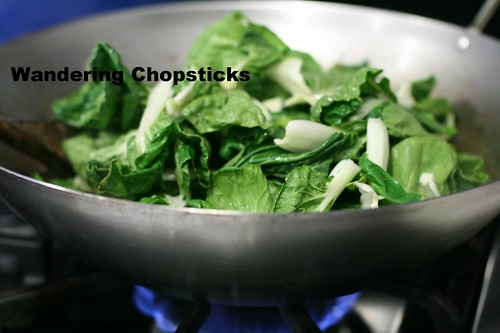 Toss again. Taste and adjust seasonings if necessary. I find the excess marinade provides plenty for a stir-fry sauce, but if you need more, you can add
Chinese Oyster Sauce
.
Plate and serve.
Enjoy!
Other noodle stir-fry recipes:
Banh Cuon Xao Bo

(Vietnamese Rolled Rice Noodles Stir-Fry with Beef)
Banh Cuon Xao Thap Cam

(Vietnamese Combination Rolled Rice Noodle Stir-Fry)
Banh Uot Xao Bo

(Vietnamese Wet Rice Noodle Sheet Stir-fry with Beef), Bok Choy, Broccoli, Bean Sprouts, and Spinach
Hu Tieu/Banh Pho Don Xao Bo

(Vietnamese Crispy Rice Noodle Beef Stir-Fry)
Mi Xao Don Chay

(Vietnamese Vegetarian Crispy Chow Mein)
Mi Xao Don Thit Bo

(Vietnamese Crispy Chow Mein with Beef)
Pad See-Ew

(Thai Stir-Fried Soy Sauce Rice Noodles)
Pho Ap Chao Bo

(Vietnamese Pan-Fried Rice Noodles Sauteed with Beef)
Shanghai Noodles with Ground Pork, Spinach, and Onions
Vegetarian Shanghai Noodles with Spinach and Onions
Yaki Udon

(Japanese Stir-Fried Udon Noodles)
*****
1 year ago today
,
2 years ago today
,
3 years ago today
,
4 years ago today
,
Sushi Komasa - Los Angeles (Little Tokyo)
.
5 years ago today
,
Ga Ro Ti (Vietnamese Roast Chicken)
.
6 years ago today
, a primer on
Nuoc Mam

(Vietnamese Fish Sauce)
.
7 years ago today
,
Memorial Day barbecue
.